Manual Therapy and Functional Exercise for the Shoulder Complex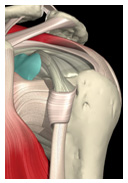 Shoulder pain is extremely prevalent in the general population, being ranked as the third most common musculoskeletal complaint.  This two-day hands on seminar will present a comprehensive overview of the structural and biomechanical basis of shoulder function and its relationship to the entire upper extremity. Improve your outcomes in the clinic or training room by examining the best evidence-based manual techniques and functional exercises for conservative and post-op management of common shoulder conditions.
Common pathologies, progressive non-operative and post-operative treatment involving impingement, instability, rotator cuff pathologies/tears, adhesive capsulitis, arthroplasties, and thoracic outlet syndrome will be covered with strong reference to their impact on function. Techniques covered will include joint and soft tissue mobilizations, kinetic chain strengthening, taping strategies, plyometric and athletic shoulder exercises and more.
This seminar is designed to be eclectic in its delivery to best suit the needs of the busy clinician. The hands on course content will be grounded in evidence based treatment strategies and supported with pertinent case studies.
You will return to your practice with new, applicable tools to treat a myriad of shoulder problems more effectively and efficiently.
Course Dates & Locations
Nov 5, 2022 – Nov 6, 2022

9155 SW Barnes Road, Portland, OR 97225

6  SPOTS LEFT

Providence St. Vincent Medical Center
9155 SW Barnes Road, Portland, OR 97225

Providence St. Vincent Medical Center
East Pavilion – Souther Classrooms
9155 SW Barnes Road
Portland, OR 97225
East Parking – Visitors Lot
503-216-1234

Take the stairs or elevator to Level 1 and walk across the street to the East Pavilion Entrance. There will be a circle drive with a fountain in the middle. Once inside the east pavilion, turn directly to your right and walk down the hallway with the windows on your right. The Souther classrooms entrance is at the end of the hall on the left.

Area Accommodations
Homewood Suites – 503-614-0900
15525 NW Gateway Court, Beaverton, OR 97006
(3.7 miles away)

Hilton Garden Inn – 503-439-1717
15520 NW Gateway Court, Beaverton, OR 97006
(3.7 miles away)

Fairfield Inn and Suites – 503-972-0048
15583 NW Gateway Court, Beaverton, OR 97006
(3.7 miles away)

There are NO room blocks or discounts available at the mentioned hotels.
Please visit the hotel chain website for "Best Rates"
Faculty
Educational Credit
A certificate of attendance for 15 Contact Hours will be awarded to each participant. All Therapy Network Seminars are pre‐approved for CEUs in the state where the course is conducted when required for PT, OT, ATs & Assistants.

Therapy Network, Inc. (BOC AP#: P2563) is approved by the Board of Certification, Inc. to provide continuing education to Certified Athletic Trainers. Our seminars are eligible for a maximum of 15 Category A hours/CEUs. ATs should claim only those hours actually spent in the educational program.

AOTA Approved Provider of Continuing Education # 3073 Category 1 Domain of OT. The assignment of AOTA CEUs does not imply endorsements of specific course content, products, or clinical procedures by AOTA
Audience
This is an intermediate level course intended for PTs, PTAs, OTs, OTAs and ATs

NOTE: Nothing in this course is to enable or permit the learner to apply techniques outside of the scope of practice in their individual state and discipline.
Objectives
Identify relevant functional anatomy and biomechanics that directly relates to addressing the most common shoulder complex disorders.
Identify current updates on treatment strategies for common shoulder complex diagnoses
Demonstrate manual therapy techniques addressing joint and soft tissue limitations that are appropriate for the clinical presentation of each patient.
Demonstrate application of general principles of functional exercise, stretching and taping for mobility and stability appropriate for the clinical presentation of each patient.
Identify precautions & rehabilitation considerations following common surgical procedures of the shoulder complex.
Demonstrate impairment specific functional exercise and manual therapy, properly choosing treatment techniques relative to the specific diagnoses.
Participants Comments
Logical order of manual with progression to functional exercises. Rhett was not intimidating and gave great feedback. PT
This course was really well organized and I feel more confident with my skills as a therapists now. COTA
I loved the hands on practice, the interactive aspects, and one-on-one critiquing when needed. PT
Rhett was an excellent presenter/clinician that really knows what he is teaching. He was engaging, positive and offered multiple alternative methods to techniques to accommodate the entire class. OTR
Schedule
Day 1

8:00
Registration and continental breakfast
8:30
Principles of shoulder anatomy and biomechanics
-Functional anatomy of the shoulder complex
- Mobility vs Stability
-Observation of posture & movement
10:30
BREAK
10:45
Updates on common shoulder diagnoses
- Overuse injury diagnoses
- Post-surgical diagnoses
- Degenerative & insidious diagnoses
12:00
LUNCH (on your own)
1:00
LAB – Joint mobilization techniques for the shoulder complex
3:00
BREAK
3:15
LAB – Soft tissue techniques for the shoulder complex
5:30
Q/A and Adjourn

Day 2

8:00
Assessment of Pain & Disability
-Outcome measures
-Pain-disability-function and fear of movement
8:45
LAB –Functional exercise for mobility and stability
10:00
BREAK
10:15
LAB – Functional exercise for the shoulder complex (cont.)

11:00
LAB - Considerations following common surgical procedures

12:00
LUNCH - on your own
1:00
LAB –Impairment specific functional exercise: Impingement, Adhesive Capsulitis, & Instability

2:15
LAB - Effective taping techniques for the shoulder

3:15
BREAK
3:30
Case studies: Updates on frequently treated shoulder conditions:

5:00
Q & A and Adjourn
Cancellation Policy
Registration fee less a $75 administrative charge is refundable if cancellation received 14 days prior to program date. No refunds will be given after that time. Therapy Network, Inc. reserves the right to cancel a seminar and will refund in full the registration fee only. TNI is NOT responsible for registrants nonrefundable airfare, accommodations or fees.