Splinting the Hand, Wrist, and Elbow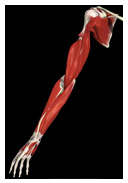 The art of custom splinting is an often frustrating and challenging skill to master. Invariably, we find our best efforts in a pile of very expensive and awkward to handle mass of materials leaving both our patients and ourselves baffled by the outcome. Taking control of the materials through understanding their properties, characteristics, and "feel", along with a strong foundation of upper extremity biomechanics and surface anatomy can quickly turn the tables in your favor. Holding true to the title, Barry has created a remarkable formula for mastering splint fabrication in an introductory environment that incorporates ample opportunity to both observe and fabricate custom splinting, all the while, sharing the dos and dont's that can only come from 20 years of trial and error. This is a fun, relaxed, and non-intimidating workshop developed to replace frustrated and baffled with enlightened and confident. Diagnosis and conditions covered in this workshop include fractures, arthritis, contractures, CTDs, and wounds. Emphasis is placed on replicating the actual patient environment. Course handouts and labs are designed to allow immediate clinical application of splinting techniques.
This is an introductory level course.
Course Dates & Locations
Faculty
Educational Credit
A certificate of attendance for 15 Contact Hourswill be awarded to each participant. All Therapy Network Seminars are pre‐approved for CEUs in the state where the course is conducted when required for PT, OT, ATs & Assistants.

Therapy Network, Inc. (BOC AP#: P2563) is approved by the Board of Certification, Inc. to provide continuing education to Certified Athletic Trainers. Our seminars are eligible for a maximum of 15 Category A hours/CEUs. ATs should claim only those hours actually spent in the educational program.

AOTA Approved Provider of Continuing Education # 3073 Category 1 Domain of OT. The assignment of AOTA CEUs does not imply endorsements of specific course content, products, or clinical procedures by AOTA


Audience
This course is intended for PTs, PTAs, OTs, OTAs and ATs

NOTE: Nothing in this course is to enable or permit the learner to apply techniques outside of the scope of practice in their individual state and discipline.
Objectives
Identify the characteristics, components and "feel" of splinting materials
Demonstrate and Identify the preparation and tools needed for successful splinting.
Successfully complete the fabrication of finger, hand, wrist and forearm based splints
Identify the biomechanical and anatomical features of splint design.
Identify the indications and contraindications for splinting the upper extremity involving contractures, arthritis and CTDs
Identify the clinical guidelines for splinting including patient evaluation, education and safety
Participants Comments
"Lot's of hands-on! Good opportunity to practice & become comfortable with splinting." OTR
"Having never splinted before I can honestly say I am well prepared now -thanks to this course" - PT
"I learned not just how to splint but the why and when to splint as well - in-valuable" - OTR
"Absolutely terrific! Small class size and equipment and space for everyone; instructor was extremely patient & fun. I never felt intimidated once." -COTA
Schedule
Day 1

8:00
Registration
- Continental Breakfast
8:30
Anatomy
9:15
Splint Types
10:00
Break
10:15
Splint Materials
10:45
Finger Based Splints
11:00
Lab-finger gutter
12:00
Lunch (on your own)
1:00
Biomechanics
1:30
Splint Fabrication
2:00
Lab-swan neck
3:00
Break
3:15
Clinical Guidelines
4:00
Hand Based Splints
4:30
Lab-ulnar nerve palsy
5:30
Questions and Adjourn

Day 2

| | |
| --- | --- |
| 8:00 | Lab-short opponens |
| 9:00 | Lab-trigger finger |
| 10:00 | Break |
| 10:15 | Forearm Based Splints |
| 10:45 | Lab-wrist support |
| 12:00 | Lunch (on your own) |
| 1:00 | Lab-thumb spica |
| 2:00 | Lab-resting hand |
| 3:00 | Break |
| 3:15 | Mobilization Splints |
| 4:15 | Elbow Splints |
| 5:00 | Questions and Adjourn |
Cancellation Policy
Registration fee less a $75 administrative charge is refundable if cancellation received 14 days prior to program date. No refunds will be given after that time. Therapy Network, Inc. reserves the right to cancel a seminar and will refund in full the registration fee only. TNI is NOT responsible for registrants nonrefundable airfare, accommodations or fees.