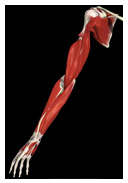 The art of custom splinting is an often frustrating and challenging skill to master. Invariably we find our best efforts in a pile of very expensive and awkward to handle mass of materials leaving both
our patients and ourselves baffled by the outcome.

Taking control of the materials through understanding their properties, characteristics and "feel", along with a strong foundation of upper extremity biomechanics and surface anatomy can quickly turn the tables in your favor.

Holding true to the title, this introductory course creates a remarkable formula for mastering splint fabrication in an introductory environment that incorporates ample opportunity to both observe and fabricate
custom splinting, all the while, sharing the dos and don'ts that can only come from 20 years of trial and error. A fun, relaxed and non-intimidating workshop developed to replace frustrated and baffled with enlightened and confident.

Diagnosis and conditions covered in this workshop include fractures, arthritis, contractures, CTDs and wounds. Emphasis is placed on replicating the actual patient environment. Course handouts and labs are designed to allow immediate clinical application of splinting techniques.