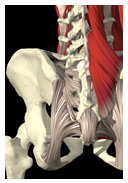 Low back pain is a significant contributor to disability worldwide and is one of the most common conditions for which patients seek care. Treatment approaches can often be confusing due to dogmatic classification systems, which can be overly complicated and difficult to apply in a clinically meaningful way. However, patients with regional disorders often present with similar clinical presentations. These clinical presentations can often guide clinicians towards the best treatment options.
This course is designed to be eclectic in its delivery to best suit the needs the busy clinician. Treatment approaches are organized based on categories that are consistent with how patients that report low back pain are likely to present. Patients presenting with chronic low back pain, referred leg pain, SI dysfunction or even stenosis will often respond to similar treatment approaches. This course will provide treatment options in a multimodal context that are grouped to address the most common clinical presentations. Finally, treatment approaches are organized in a logical way providing examples of how the treatments could be integrated.
This is an intermediate level course.
This course is made available as an in-service option only. 
Should you like to offer this course to your staff please complete the in-service request form here.
Course Dates & Locations
Educational Credit
A certificate of attendance for 15 Contact Hourswill be awarded to each participant. All Therapy Network Seminars are pre‐approved for CEUs in the state where the course is conducted when required for PTs, PTAs, ATs.

Therapy Network, Inc. (BOC AP#: P2563) is approved by the Board of Certification, Inc. to provide continuing education to Certified Athletic Trainers. Our seminars are eligible for a maximum of 15 Category A hours/CEUs. ATs should claim only those hours actually spent in the educational program.



Audience
This course is intended for PTs, PTAs, & ATCs

NOTE: Nothing in this course is to enable or permit the learner to apply techniques outside of the scope of practice in their individual state and discipline.
Objectives
Identify the most common clinical presentations associated with the lumbo pelvic complex.
Identify examination findings associated with the most common clinical presentations in patients with lumbosacral pain.
Identify treatment progressions based on clinical presentation and how to progress/regress treatment.
Demonstrate treatment procedures for a given clinical presentation.
Identify how treatment pathways may be altered for unique clinical situations in those with lumbosacral pain.
Participants Comments
"I attended your lumbosacral course this weekend in Minneapolis, MN. I just wanted to let you know, I used the positional traction technique and manual traction with my lumbar radiculopathy patient today and it took away his leg pain and much relief from his back. He looked at me as if I was amazing. My patients and I THANK YOU so much for all the great tips! The course was fabulous, and directly applicable to my patients! "
"Every concept was explained, routed in evidence and then followed up with hands on application"
"Very informative and well put together"
"Excellent course; Thought Provoking"
"Terrific instructor who was flexible and sensitive to class needs."
Bill is a master clinician in the truest sense. My 3rd course in which he was the instructor and I am a much better clinician as a result. Thank you Bill and thank you TNS for offering his courses.
Schedule
Day 1

8:00
Registration and Continental Breakfast
8:30
Clinical Anatomy
10:00
BREAK
10:15
Outcomes for Lumbosacral disorders

11:00
Clinical presentation; clinical pathways
12:00
LUNCH (ON YOUR OWN)
1:00
Clinical Decision Making

1:30
Managing chronic LBP
Demonstration and Practice Lab
2:30
BREAK
3:30
Radiculopathy & Referred Leg Pain
Demonstration and Practice Lab

5:30
Q/A & Adjourn

Day 2

8:00
General Non-Specific LBP
Demonstration and Practice Lab

10:15
Lumbar Instability
Demonstration and Practice Lab

12:00
LUNCH (OWN YOUR OWN)
1:00
SI Dysfunction
Demonstration and Practice Lab
2:30
BREAK
3:00
Stenosis
Demonstration and Practice Lab

5:00
Q/A & Adjourn
Cancellation Policy
Registration fee less a $75 administrative charge is refundable if cancellation received 14 days prior to program date. No refunds will be given after that time. Therapy Network, Inc. reserves the right to cancel a seminar and will refund in full the registration fee only. TNI is NOT responsible for registrants nonrefundable airfare, accommodations or fees.