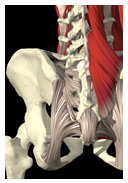 Low back pain is one of the most debilitating and costly epidemics in industrialized society, comprising over 25% of all outpatient physical therapy visits with a notable increase expected over the next 15 years. Consequently, this course has been designed to provide an evidence-based approach to the evaluation and treatment of lumbosacral dysfunction. This two day lab intensive course incorporates medical screening procedures, differential diagnosis, muscle energy techniques, functional exercise prescription, mobilization and manual therapy of the lumbosacral complex.  Evaluation and treatment is approached as a systematic process utilizing clinical reasoning and scientific evidence. Significant lab time allows each attendee to process, practice, and polish intervention techniques under the guided supervision of experienced manual therapists. The end result is the ability to immediately apply new skills upon return to the clinic.
Course Dates & Locations
Oct 26, 2019 – Oct 27, 2019

2701 N Decatur Rd, Decatur, GA 30033

Emory Decatur Hospital
2701 N Decatur Rd, Decatur, GA 30033
Educational Credit
A certificate of attendance for 15 Contact Hourswill be awarded to each participant. All Therapy Network Seminars are pre‐approved for CEUs in the state where the course is conducted when required for PTs, PTAs, ATCs.

BOC Board of Certification, Inc. Approved Provider # P‐2563



Audience
This course is intended for PTs, PTAs, & ATCs

NOTE: Nothing in this course is to enable or permit the learner to apply techniques outside of the scope of practice in their individual state and discipline.
Objectives
Identify key anatomical structures and principles as they relate to lumbosacral examination and treatment.
Perform a neurological and orthopedic medical screening to identity contraindications to treatment and noting when further medical assessment is necessary.
Perform a thorough evidence based examination through provocative and special testing procedures.
Demonstrate functional progression of exercises based on clinical findings and evidence.
Demonstrate mechanical instruction for functional activities.
Participants Comments
"I attended your lumbosacral course this weekend in Minneapolis, MN. I just wanted to let you know, I used the positional traction technique and manual traction with my lumbar radiculopathy patient today and it took away his leg pain and much relief from his back. He looked at me as if I was amazing. My patients and I THANK YOU so much for all the great tips! The course was fabulous, and directly applicable to my patients! "
"Every concept was explained, routed in evidence and then followed up with hands on application"
"Very informative and well put together"
"Excellent course; Thought Provoking"
"Terrific instructor who was flexible and sensitive to class needs."
Bill is a master clinician in the truest sense. My 3rd course in which he was the instructor and I am a much better clinician as a result. Thank you Bill and thank you TNS for offering his courses.
Schedule
Day 1

8:00
Registration and Continental Breakfast
8:30
Functional Anatomy & Biomechanics
10:00
BREAK
10:15
Medical Screening for the LumboSacral Complex
-Upper and Lower quarter screen
-Neurological screening
-Differentiation of referred pain

12:00
LUNCH (ON YOUR OWN)
1:00
Examination of the Lumbosacral Complex
-"Red Flags"
-"Yellow Flags"
- Important co-morbidities
- Outcome Measures
- Postural Assessment & Muscular Imbalance

2:30
BREAK
2:45
Demonstration & Practice Examination Lab
Examination of the LumboSacral Complex - (cont)
- Special Tests & Provocation Tests
- Mobility Assessments
- Radiology Interpretation
- Algorithmic evaluation system
- Examination Findings & Classification

5:30
Q/A & Adjourn

Day 2

8:00
Treatment of the Lumbar Spine
Manual Therapy Demonstration & Practice Lab
- Mobilization & Manipulation of the lumbar spine
- MET - Muscle Energy Techniques

10:00
Functional Exercise Rx Demonstration & Practice Lab
- Transversus/Multifidus recruitment
- Dynamic stabilization exercise progression
- Flexibility exercises
- Mechanical Instruction for Functional Activities

11:00
Repeated Movement
- Flexion movement & Extension movement
- Lateral shift corrections

12:00
LUNCH (OWN YOUR OWN)
1:00
Traction: Mechanical traction & Positional traction
2:00
Treatment of the Sacroiliac Complex
Functional Exercise Rx Demonstration & Practice Lab
- Stabilization
- Deep muscular contractions
- Home exercise considerations
- Muscular Imbalance

2:30
BREAK
2:45
Manual Therapy Lab
- Mobilization & Manipulation of SI/Pelvic Complex
- MET - Muscle Energy Techniques

5:00
Q/A & Adjourn
Cancellation Policy
Registration fee less a $75 administrative charge is refundable if cancellation received 14 days prior to program date. No refunds will be given after that time. Therapy Network, Inc. reserves the right to cancel a seminar and will refund in full the registration fee only. TNI is NOT responsible for registrants nonrefundable airfare, accommodations or fees.