The Hand, Wrist and Elbow Complex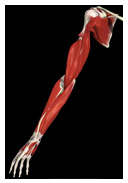 This two-day seminar will present a comprehensive overview of the structural and biomechanical basis of hand, wrist & elbow function and their relationship to the entire upper extremity. This unique approach thoroughly examines the relationship of these structures to human performance and suggest strategies for functional improvement. Common pathologies, mechanisms of injury, and progressive pre and post-operative treatment involving fractures, RSI/CTDs, tendon/nerve lacerations, arthritis, sprains/strains and dislocations will be covered with strong reference to their impact on function. Course content includes medical screening, differential diagnosis, imaging, functional progression of treatment, splinting/casting, PAMs, pain management and the non-compliant patient. This seminar will NOT present a "protocol driven approach" to rehabilitation. Rather, the participant will learn a "framework" for physical examination that will permit rapid synthesis of findings into a "dynamic treatment plan" designed to increase patient satisfaction and outcomes.
Course Dates & Locations
Nov 16, 2019 – Nov 17, 2019

5051 Greenspring Ave. Suite 303, Baltimore, MD 21215

ONLY  8  SPOTS LEFT

Sinai Hospital
5051 Greenspring Ave. Suite 303, Baltimore, MD 21215

Mirowski Medical Office Building at Sinai Hospital
5051 Greenspring Ave. Suite 303
Baltimore, MD 21215
Parking is free in the Mirowski / Brain and Spine institute lot (map)

http://www.lifebridgehealth.org/BrainSpine/BrainandSpineatSinaiHospital.aspx

Area Accommodations
Radisson Hotel At Cross Keys
5100 Falls Road, Baltimore, MD 21210
(410) 532-6900

Inn at the Colonnade Baltimore - A DoubleTree by Hilton Hotel
4 West University Parkway, Baltimore, MD 21218
TEL: 1-410-235-5400

Sheraton
3549 Chestnut St, Baltimore, MD 21231
(443) 872-5763

There are NO room blocks or discounts available at the mentioned hotels.
Please visit the hotel chain website for "Best Rates"
Educational Credit
A certificate of attendance for 15 Contact Hours will be awarded to each participant. All Therapy Network Seminars are pre‐approved for CEUs in the state where the course is conducted when required for PT, OT, ATC & Assistants.

NOTE: CE Credit for FL Licensed PTAs will reflect Tx content only per FPTA regulations.

BOC Board of Certification, Inc. Approved Provider # P‐2563

AOTA Approved Provider of Continuing Education # 3073 Category 1 Domain of OT. The assignment of AOTA CEUs does not imply endorsements of specific course content, products, or clinical procedures by AOTA


Audience
This course is intended for PTs, PTAs, OTs, OTAs, ATs

NOTE: Nothing in this course is to enable or permit the learner to apply techniques outside of the scope of practice in their individual state and discipline.
Objectives
Demonstrate a working understanding of the biomechanical systems of the elbow, wrist and hand and relate this information to functional impairments.
Demonstrate an appropriate physical examination of the elbow and wrist.
Identify sound biologically based treatment plans for osseous and soft tissue pathologies.
Identify appropriate splints and positioning devices to improve upper extremity performance.
Identify psychosocial assessment techniques and motivational techniques designed to improve client compliance with therapy prescription.
Participants Comments
"...Paul really showed the relationship of the joint structures & how they affect evaluations and treatments."

"EXCELLENT!! ...I loved the interactive slides, hands‐on labs and Paul's down to earth approach and humor. These
2 days flew by. –thank you"

"Paul is an excellent presenter who makes an incredible amount of information available and accessible in a
concise and non threatening manner. I did not feel overwhelmed at any time."

"...BEST cont. ed course I've been to in 15 years." "I really got my monies worth and then some"
Schedule
Day 1

8:00
Registration and Continental Breakfast
8:30
Functional biomechanics of the elbow:
- Osseous and soft tissue considerations

9:15
Osseous Pathologies/Functional considerations:
- The distal humerus fracture, radial head pathology, unique fractures of the elbow:
- Management through exercise and splinting.

10:15
BREAK
10:30
Soft tissue pathologies of the elbow:
- Ligament injuries of the elbow.
- Biceps tendon issues.
- Epicondolytis

11:00
Neurological pathology of the Elbow:
- Reconstruction of the flail elbow.

12:00
LUNCH (ON YOUR OWN)
1:00
Cubital Tunnel Syndrome
General pain syndromes of the elbow

2:45
BREAK
3:00
General pain syndromes of the elbow Cont.
4:00
Lab 1 - Physical examination of the elbow
5:30
Q/A & Adjourn

Day 2

8:00
Biomechanical assessment & Functional Anatomy of the Wrist
8:30
Ligament injuries of the wrist
10:30
BREAK
10:45
Osseous injuries & Neurological pathologies of the wrist.
11:30
Lab 2: Physical examination of the wrist.
Section A Radial & central wrist examination and mobilization
Section B DRUJ & ulnar wrist examination and mobilization

12:00
LUNCH (ON YOUR OWN)
1:00
The Thumb
1:30
Functional anatomy and biomechanics of the hand
- Osseous pathology of the hand:
- Metacarpal fractures, Phalanx fractures: balancing motion and stability, arthritic issues and hand function: How we can make a difference in outcome?

2:45
BREAK
3:00
Soft tissue/neurological pathology of the hand:
- Can we really treat Carpal Tunnel Syndrome?
- Clinical tenosynovitis vs RSI: strategies for assessment and management.

4:00
Lab 3: Hand examination and mobilization
5:00
Q/A & Adjourn
Cancellation Policy
Registration fee less a $75 administrative charge is refundable if cancellation received 14 days prior to program date. No refunds will be given after that time. Therapy Network, Inc. reserves the right to cancel a seminar and will refund in full the registration fee only. TNI is NOT responsible for registrants nonrefundable airfare, accommodations or fees.