Management of Nerve & Tendon Pain in the Upper Extremity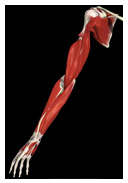 This seminar is designed to advance clinical competence in working with the neurological and musculoskeletal issues associated with repetitive stress injuries through the application of current clinical evidence. A thorough review of tendon/nerve physiology, pathomechanics, and surgical techniques will create a foundation for proper intervention. This foundation will then be used to develop assessment and treatment approaches to pathology associated with repetitive stress injuries. Course content includes current conservative and surgical treatment options, ergonomic assessment/intervention, imaging, post-surgical guidelines, splinting options, joint and soft tissue mobilization, modalities and specific therapeutic exercise techniques. The student will participate in lecture and small group discussion before implementing assessment and treatment strategies in laboratory sessions.
This is an intermediate level course.
Course Dates & Locations
Faculty
Educational Credit
A certificate of attendance for 15 Contact Hourswill be awarded to each participant. All Therapy Network Seminars are pre‐approved for CEUs in the state where the course is conducted when required for PT, OT, ATs & Assistants.

Therapy Network, Inc. (BOC AP#: P2563) is approved by the Board of Certification, Inc. to provide continuing education to Certified Athletic Trainers. Our seminars are eligible for a maximum of 15 Category A hours/CEUs. ATs should claim only those hours actually spent in the educational program.

AOTA Approved Provider of Continuing Education # 3073 Category 1 Domain of OT. The assignment of AOTA CEUs does not imply endorsements of specific course content, products, or clinical procedures by AOTA


Audience
This course is intended for PTs, PTAs, OTs, OTAs and ATs

NOTE: Nothing in this course is to enable or permit the learner to apply techniques outside of the scope of practice in their individual state and discipline.
Objectives
Identify the anatomical and biomechanical foundations of common tendon and nerve pathology of the upper extremity
Identify current evidence that applies to evaluation and treatment of pathologies presented
Select appropriate orthotic and immobilization strategies to support tissue healing and regeneration
Identify sound bio-psychosocially based treatment plans for management of tendon and nerve pain in the upper extremity.
Demonstrate soft tissue mobilization techniques to support remediation of presented pathologies.
Identify appropriate activity modification and lifestyle redesign to support tissue healing and regeneration.
Participants Comments
"This course completely changed my way of thinking about cumulative trauma."
What a terrific 2 days. The course certainly made me re-think some things"
"Excellent presentation style ...coming from a background of experience and knowledge"
Kept the emphasis on the important items that you should remember in terms of pathology, evidence, interventions and guidelines rather than protocols."
Schedule
Day 1

8:00
Registration and Continental Breakfast
8:30
Peripheral nerve anatomy and neurophysiology
9:15
Pathophysiology of compressive neuropathy
9:45
BREAK
10:00
Compressive neuropathies
- Cubital Tunnel Syndrome
- Carpal Tunnel Syndrome
- Pronator Syndrome
- Radial Tunnel Syndrome

11:00
Case study discussion
12:00
LUNCH (on your own)
1:00
LAB: Compressive neuropathy assessment and treatment
2:00
Pain: physiology and cultural implications
2:45
BREAK
3:00
The Thoracic Outlet: proximal pain syndromes
3:45
Non-Anatomic pain issues. Fictional disorders:
- Recognizing & managing the non-organic pain client

4:00
LAB: Proximal assessment and pain control intervention.
5:30
Q/A & Adjourn

Day 2

8:00
Muscle and tendon structure and physiology: What is normal?

9:00
Tendinopathy: Definition & implication for therapy

9:30
BREAK
9:45
Classification system of soft tissue pain
- Implication for assessment and treatment

10:00
Defined tendon disorders
- Shoulder: rotator cuff & bicepital tendinopathy
- Elbow: lateral and medial tendinopathy
- Hand and wrist: synovial tenosynovitis

12:00
LUNCH (on your own)
1:00
LAB: Tendon disorder RX & intervention
2:00
Myofascial pain of the upper extremity: **trigger point assessment

2:45
BREAK
3:00
LAB: Joint & Soft tissue RX & treatment.
5:00
Q/A and Adjourn
Cancellation Policy
Registration fee less a $75 administrative charge is refundable if cancellation received 14 days prior to program date. No refunds will be given after that time. Therapy Network, Inc. reserves the right to cancel a seminar and will refund in full the registration fee only. TNI is NOT responsible for registrants nonrefundable airfare, accommodations or fees.