Introduction to Hand Therapy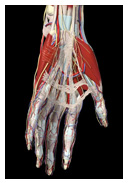 This is a comprehensive, practical, and non-intimidating program designed for the clinician who is interested in pursuing hand therapy or is new to the field. This course takes an in-depth look at the management of common upper extremity diagnosis integrating anatomy and pathology with the evaluation and treatment process. Topics covered include exercise and activity progression, static and dynamic splinting, soft tissue assessment-treatment, edema management, sensibility, ROM, home program development and proper documentation.
Course Dates & Locations
Sep 18, 2021 – Sep 19, 2021

1086 N Avon Ave, Indianapolis (Avon), IN 46123

Indiana Physical Therapy
1086 N Avon Ave, Indianapolis (Avon), IN 46123

Nov 6, 2021 – Nov 7, 2021

2701 North Decatur Road, Atlanta (Decatur), GA 30033

Emory Decatur Hospital
2701 North Decatur Road, Atlanta (Decatur), GA 30033

Course Location
Emory Decatur Hospital
2701 North Decatur Road
Decatur, GA 30033
Bobbie Bailey Tower Auditorium

The course will be held in Bobbie Bailey Tower Auditorium on the main campus. The auditorium is located on the lobby level of the Bobbie Bailey Women's and Outpatient Surgery Tower. Parking is in the parking deck to the tower or adjacent to the main hospital and is free (vouchers will be handed out at the course).

Area Accommodations
Holiday Inn Express Hotel and Suites
2183 North Decatur Road
Decatur, GA
(2 miles away)

Courtyard by Marriott
1236 Executive Park Drive NE
Atlanta, GA
(4 miles away)

Doubletree Hotel
2061 North Druid Hills Road
Atlanta, GA
(4.2 miles away)

There are NO room blocks or discounts available at the mentioned hotels.
Please visit the hotel chain website for "Best Rates"
Educational Credit
A certificate of attendance for 15 Contact Hourswill be awarded to each participant. All Therapy Network Seminars are pre‐approved for CEUs in the state where the course is conducted when required for PT, OT, ATs & Assistants.

NOTE: CE Credit for FL Licensed PTAs will reflect Tx content only per FPTA regulations.

Therapy Network, Inc. (BOC AP#: P2563) is approved by the Board of Certification, Inc. to provide continuing education to Certified Athletic Trainers. Our seminars are eligible for a maximum of 15 Category A hours/CEUs. ATs should claim only those hours actually spent in the educational program.

AOTA Approved Provider of Continuing Education # 3073 Category 1 Domain of OT. The assignment of AOTA CEUs does not imply endorsements of specific course content, products, or clinical procedures by AOTA

Audience
This course is intended for PTs, PTAs, OTs, OTAs and ATs

NOTE: Nothing in this course is to enable or permit the learner to apply techniques outside of the scope of practice in their individual state and discipline.
Objectives
Identify the proper procedures for basic upper extremity evaluations including ROM, rapid grip, edema, sensibility, and proper documentation
Identify signs and symptoms for a variety of diagnoses related to the upper extremity including nerve compression, DeQuervains, Dupuytren's Contracture, Trigger Finger etc
Identify appropriate static and dynamic splints for the treatment of various upper extremity problems including splint wearing schedule, indications, and contra-indications.
Select and prioritize treatment options and develop effective home programs to reduce the number of necessary therapy sessions.
Identify several techniques to assess the "non-compliant patient".
Identify the "warning signs" of Complex Regional Pain Syndrome (CRPS/RSD) as early interventions may prevent further development of symptoms.
Participants Comments
"I am ABSOLUTELY IMPRESSED with this course"
"BEST CONTINUING ED COURSE I've ever attended"
"Every therapist should be required to have this info."
"GREAT -non-intimidating information with lots of info."
"I enjoyed the DOWN-TO-EARTH style & the encouragement to all who are interested to pursue hand therapy"

Schedule
Day 1

8:00
Registration and Continental Breakfast
8:30
Upper Extremity Anatomy: bones, joints, ligaments, tendons and nerves.
9:00
Upper Extremity Evaluation: ROM, Motor strength, Sensibility, Edema, Patient's history, interview

10:15
BREAK
10:30
RSI, Ligament Injuries and Instabilities
- Carpal Tunnel Syndrome
- Gamekeeper's Thumb
- Volar plate injury (PIP joint)

12:00
LUNCH (On your own)
1:00
Ligament's Continued
- Collateral ligament tear
- Carpal ligament instability & TFCC
...splinting and rehab program

2:45
Fracture Management and Rehab
- Finger (distal, middle & proximal phalanges)
- Metacarpal, Carpal, & Radius/Ulna
...splinting, edema mgmt, wound care, precautions, appropriate modalities & strengthening following casting, open reduction, and external fixation techniques.

3:15
BREAK
3:30
Fractures Continued
5:30
Questions and Adjourn

Day 2

8:00
Flexor tendon zone repair and rehab s/p tenolysis extensor tendon laceration, repair, and rehab

10:15
BREAK
10:30
Arthritis:
- Thumb CMC (pre and post)
- Rheumatoid Arthritis
- Flexor tenosynovitis
- Extensor tenosynovitis
- Trigger thumb / finger
- MP joint arthroplasties (implants)

12:00
LUNCH (On your own)
1:00
Epicondolytis
Dequervains (pre and post)
Wrist Ganglions
Dupuytren's Contractures

2:45
Traumatic injuries and Complications
- Nerve lacerations (radial, median, ulnar, & digital)
- Crush Injuries

3:15
BREAK
3:30
Traumatic injuries Continued
- Complex Regional Pain Syndrome **(CRPS/RSD)
- "The Stiff Hand"
- Infections

5:00
Questions and Adjourn
Cancellation Policy
Registration fee less a $75 administrative charge is refundable if cancellation received 14 days prior to program date. No refunds will be given after that time. Therapy Network, Inc. reserves the right to cancel a seminar and will refund in full the registration fee only. TNI is NOT responsible for registrants nonrefundable airfare, accommodations or fees.